(Family Features) Nutritious eating, including smarter snacking, is an important way to protect your heart and maintain overall health and wellness. While many people understand the basics of healthy eating – avoiding too many sugary treats, for example – some are confused about important food categories that can impact nutrition.
According to a survey conducted by The Harris Poll on behalf of the American Heart Association, U.S. adults are least knowledgeable about refined vs. whole grains compared to other food categories like fruits, vegetables and proteins. Whole grains are, in fact, a key feature of the Association's recommendations for a heart-healthy diet.
There are two types of grain products: whole grains, which contain the entire grain, and refined grains, which have been milled into a finer texture like flour or meal. Most adults, according to the survey, are able to distinguish whole vs. refined grains. However, there are a few misperceptions.
Most incorrectly believe multi-grain bread is a whole grain. Additionally, only 17% believe sorghum is an example of a whole grain when it is, in fact, a whole grain option. Whole grains like sorghum, oatmeal and brown rice are rich sources of dietary fiber, may improve blood cholesterol levels and provide nutrients that help the body form new cells, regulate the thyroid and maintain a healthy immune system.


These sweet, chewy Date Nut Granola Bars from the American Heart Association's Healthy for Good initiative, supported by the Sorghum Checkoff, are a perfect go-to snack for enjoying throughout the week. Popped sorghum adds a surprise ingredient for crunchy texture while dry-roasted oats and nuts provide a delicious, toasted flavor.
To discover more whole-grain recipes that can support a healthy heart, visit Heart.org/healthyforgood.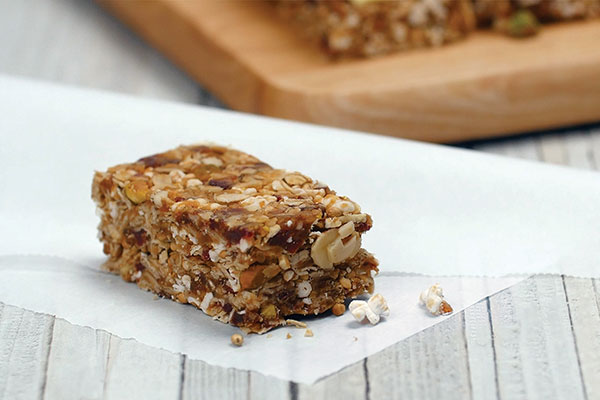 Date Nut Granola Bars
Recipe courtesy of the American Heart Association and Sorghum Checkoff
Servings: 12 (1 bar per serving)
Nonstick cooking spray
1 1/2 cups rolled oats
1/4 cup almond slices or whole almonds, coarsely chopped
1/4 cup shelled pistachios, coarsely chopped
1 cup pitted dates
1/2 cup unsweetened dried cranberries
1/4 cup uncooked whole-grain sorghum
1/4 cup honey
1/4 cup low-sodium peanut butter
1 teaspoon vanilla extract
1/8 teaspoon salt
Preheat oven to 350 F.
Line bottom and sides of 8-inch square baking pan with plastic wrap or parchment paper. Lightly spray with nonstick cooking spray.
On large baking sheet, spread oats, almonds and pistachios in single layer. Bake 10-15 minutes, or until lightly brown, stirring occasionally. Let cool slightly.
In food processor or blender, process dates and cranberries 1-1 1/2 minutes, or until chopped and clumpy. Transfer to large bowl.
Put 2 tablespoons sorghum in silicone microwaveable bowl or clean, brown paper bag. If using microwaveable bowl, cover with lid. If using paper bag, roll shut and place on microwavable dinner plate with fold facing down. Microwave on high 2 minutes, or until there are more than 10 seconds between pops. Repeat with remaining sorghum, microwaving 1 1/2 minutes, or until more than 10 seconds between pops.
Stir popped sorghum, oats, almonds and pistachios into date mixture.
In small saucepan over low heat, heat honey and peanut butter 5 minutes, or until peanut butter is smooth and mixture is warmed, stirring occasionally. Remove from heat. Stir in vanilla and salt.
Pour peanut butter mixture over date mixture, stirring to break into small clumps. Transfer half to baking pan. Using bottom of drinking glass or fingers lightly sprayed with nonstick cooking spray, press down firmly to flatten and pack tightly so clumps adhere to each other. Repeat with remaining half. Freeze, covered, about 1 hour, to firm.
Place cutting board over pan. Turn pan over. Discard plastic wrap. Using knife, cut into 12 bars. Refrigerate leftovers in airtight container up to 1 week.