(Family Features) Welcoming friends, family and neighbors for celebrations of all kinds demands delicious hors d'oeuvres for making guests feel right at home. Next time you invite loved ones for a special get-together, you can beef up the menu with a tasty appetizer that's as easy to make as it is to enjoy.
Loaded with savory flavor and perfect for feeding a crowd, these Beef and Blue Cheese-Stuffed Mushrooms from Beef Loving Texans offer a simple yet mouthwatering way to entertain in style. Just prepare button mushrooms by removing the stems then fill the caps with a ground beef-based mixture of minced mushroom stems, blue cheese, breadcrumbs, green onions and steak seasoning for a party-worthy platter.
Visit BeefLovingTexans.com to find more recipes for home entertaining and beyond.
Watch video to see how to make this recipe!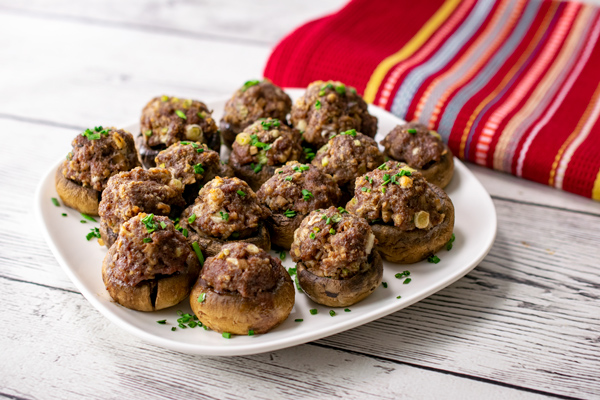 Beef and Blue Cheese-Stuffed Mushrooms
Recipe courtesy of Beef Loving Texans
Total time: 50 minutes
Servings: 40
2 packages (8 ounces each) button mushrooms
1/4 teaspoon salt
1/2 pound ground beef
1/3 cup blue cheese
1/4 cup whole-wheat breadcrumbs
3 tablespoons green onions
1/2 teaspoon steak seasoning blend
chives (optional)
Preheat oven to 375 F. Remove stems from mushrooms; reserve. Season mushroom caps with salt; set aside. Mince stems to yield 1/2 cup; discard remaining stems.
Combine ground beef, minced stems, blue cheese, breadcrumbs, green onions and steak seasoning. Spoon beef mixture evenly into mushrooms.
Place stuffed mushrooms on rack in broiler pan. Bake 15-20 minutes. Sprinkle with chives, if desired.