(Family Features) Nothing makes family time special quite like a homemade meal, especially one made with locally sourced ingredients that are as fresh and flavorful as they are thoughtfully prepared.
Whether your gatherings with loved ones take place in the family kitchen, on the patio or at a picnic area, this Asparagus, Bacon and Egg Salad makes for a perfect brunch or appetizer that leans on local ingredients like Michigan asparagus, which takes just about three days to get from the field to your table. Grown by more than 100 family farmers, it can be found in your local store at 1-4 days old, compared to 10-20 days old for imported asparagus.
Local means fresh, which makes for an especially delicious meal, but it also means sustainability. Because the Michigan asparagus season relies on the weather and uses rainwater instead of irrigation, it makes for a sustainable product that's environmentally friendly.
As a nutrient-dense, low-calorie vegetable with no fat, no cholesterol and little sodium, it's also easy to prepare – just don't overcook it. Look for thicker spears at the store, as they tend to have greater texture and more flavor and tenderness because the fiber is less concentrated.
Visit michiganasparagus.org to find more flavorful recipes to share with your nearest and dearest.
Watch video to see how to make this recipe!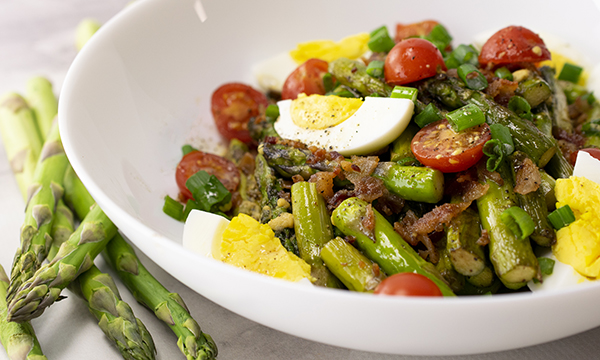 Asparagus, Bacon and Egg Salad
Recipe courtesy of Ashley from "Cheesecurd in Paradise" on behalf of the Michigan Asparagus Advisory Board
6 bacon slices
1 pound fresh Michigan asparagus, ends trimmed
1/3 cup olive oil
2 tablespoons champagne vinegar
1 tablespoon honey
1 tablespoon Dijon mustard
1/4 teaspoon salt
1/2 teaspoon black pepper
4 hard-boiled eggs, peeled and quartered
2/3 cup halved cherry tomatoes
1/4 cup sliced green onion
In skillet, cook bacon until crisp. Remove from pan. Set aside.
Cut asparagus into four pieces. Add asparagus to same skillet used to cook bacon. Cook until fork tender, about 4 minutes, depending on thickness of asparagus.
While asparagus cooks, prepare dressing. Whisk oil, vinegar, honey, mustard, salt and pepper. Set aside.
Chop bacon.
Remove asparagus from pan and place on platter. Top with chopped bacon, eggs, tomatoes and green onion. Pour dressing over top.