(Family Features) Savor each bite of light and flaky crust filled with a creamy mixture of jalapeños and bacon in these Jalapeño Popper Cups.
For more appetizer recipes, visit culinary.net.
Watch video to see how to make this delicious recipe!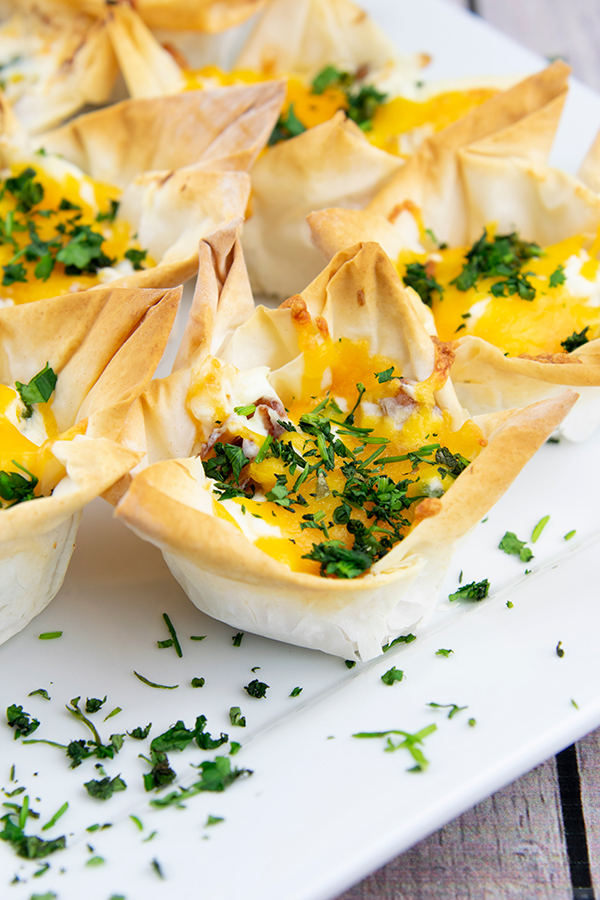 Jalapeño Popper Cups
8 strips bacon, chopped
4 medium jalapeño peppers, seeded and minced
2 teaspoons minced garlic
2 packages (8 ounces each) cream cheese
1/2 cup sour cream
1 cup shredded cheddar cheese, divided
1 package frozen phyllo dough sheets
2 tablespoons fresh cilantro, chopped
Heat oven 375°F.
In medium skillet over medium-high heat, cook bacon until crisp. Drain bacon; reserve 1 tablespoon grease.
Add jalapeño peppers and minced garlic to bacon grease. Cook until peppers are tender.
In large bowl, beat cream cheese and sour cream until smooth. Stir in bacon, jalapeño mix and 2/3 cup shredded cheese.
Gently fold one pastry sheet in half. Fold in top corners to middle, forming point. Fold bottom corners to middle, forming point. Place phyllo dough in muffin pan cavity, forming cup.
Fill phyllo cups with cream cheese mixture. Sprinkle remaining cheddar cheese over cups.
Bake 7-8 minutes or until heated through. Remove from pan and sprinkle with cilantro.
Recipe adapted from Wilton.
Source: Culinary.net