(Culinary.net) When you think about summer foods and outdoor gatherings, one of the first things that often comes to mind is, of course, grilling. It's delicious, fun and perfect for the summer heat. Grilling is popular during the warm months simply for the vast amount of different foods that can be created and devoured, plus you're outside enjoying the sunshine.
Many love to grill kebabs, fajitas and the classics: hamburgers, hot dogs and bratwursts. However, this recipe is far from those signature meats yet you still get that charred, mouthwatering taste you crave every summer (with a sweet, juicy shift).
This Grilled Pineapple with Lime Dip is sweet and tangy but also packs the flavor of summer from a flaming grill. It's a summertime twist perfect for a change up from the classics.
Begin by creating a marinade for the pineapple and letting it chill. The Lime Dip is simple yet smooth and sweet with cream cheese, yogurt, honey and brown sugar. It also has a hint of lime juice and tangy lime zest to give it that fresh taste every summer meal needs.
Once the dip is complete, it's time for the best part: firing up the grill. Grill the pineapple wedges on each side until they are ready to be served with the dip. It's that easy, and all those flavors combine to create an unexpected culinary combination.
Next time the grill is calling your name, think outside the box. This is a light, vegetarian dish many will love during the hottest time of the year. Try something new this season and don't be afraid, the outcome is wholesome and, simply put, delicious.
Find more summer grilling recipes at Culinary.net.
Watch video to learn how to make this recipe!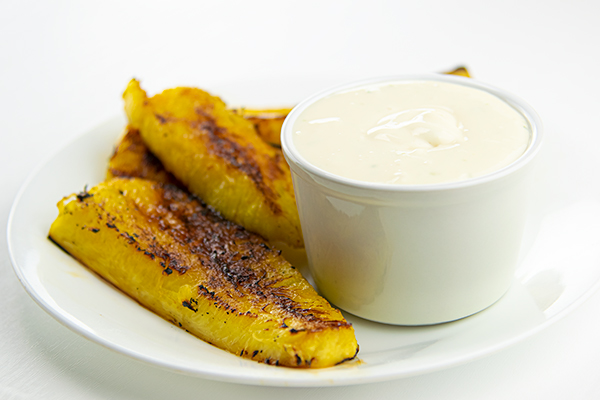 Grilled Pineapple with Lime Dip
1 pineapple
1/4 cup brown sugar
2 tablespoons lime juice
3 tablespoons honey
Lime Dip:
8 ounces cream cheese, softened
1/2 cup plain yogurt
3 tablespoons honey
2 tablespoons brown sugar
2 tablespoons lime juice
2 teaspoons lime zest
Peel pineapple; cut into wedges.
In resealable plastic bag, combine brown sugar, lime juice and honey. Add pineapple wedges, seal bag and turn to coat. Refrigerate 1 hour.
To make Lime Dip: In small bowl, beat cream cheese until smooth. Beat in yogurt, honey, brown sugar, lime juice and lime zest. Cover and refrigerate.
Heat grill to medium heat.
Remove pineapple wedges from plastic bag; discard marinade. Grill pineapple wedges, covered, 3-4 minutes on each side, or until golden brown.
Serve with Lime Dip.
Source: Culinary.net