(Family Features) If you're on the lookout for recipes that are easy to prepare, nutritious and still full of flavor, you likely know how difficult it can be to check all those boxes. In order to meet those demands, it's important to focus your dish desires around a short, simple list of ingredients.
Consider a delicious, health-conscious and sustainable recipe like this Asparagus Tartine, which requires less than half an hour in the kitchen and less than a dozen common ingredients. The main character: Michigan asparagus, which is grown by 100 family farmers during a season that relies on the weather and rainwater (rather than irrigation) for sustainable, environmentally friendly flavor.
Plus, it's easy to pick out at your local supermarket – thicker spears lead to tender, textured, enhanced flavor – and even easier to prepare. Just boil 5-8 minutes for firm spears that aren't overcooked. As a nutrient-dense, low-calorie vegetable with no fat, no cholesterol and small amounts of sodium, it's a simple solution for at-home meals or standalone snacking.
Find more easy, nutritious meal solutions at michiganasparagus.org.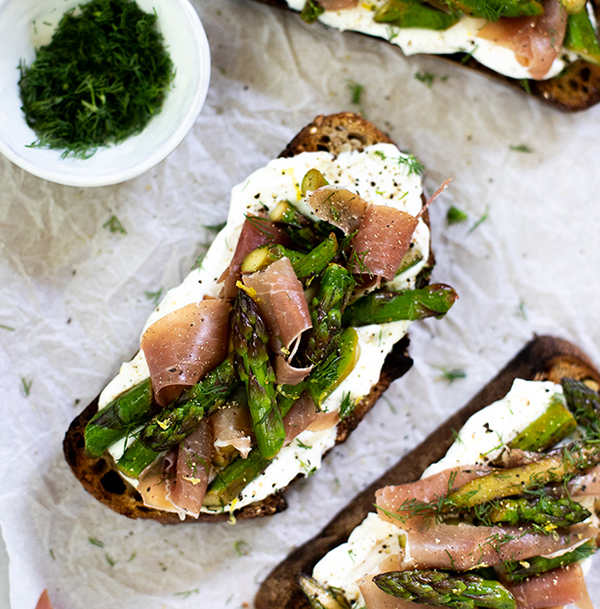 Asparagus Tartine
Total time: 25 minutes
Servings: 4
Recipe courtesy of Emily Dingmann from "My Everyday Table" on behalf of the Michigan Asparagus Advisory Board
1 cup ricotta cheese
2 teaspoons lemon zest
4 thick slices bread (sourdough or artisan)
olive oil
16 ounces Michigan Asparagus
1 tablespoon butter
flaky sea salt
1 tablespoon chopped fresh dill, plus additional, for garnish, divided
1 tablespoon fresh lemon juice
4 slices prosciutto, thinly sliced
freshly cracked pepper
Stir ricotta and lemon zest.
Heat grill over medium-high heat and brush both sides of each slice of bread generously with olive oil. Grill 3-5 minutes per side, until lightly charred and toasted.
Trim asparagus by breaking off woody bottoms. Slice into 1-inch pieces.
In skillet over medium heat, heat butter. Add asparagus, sprinkle with flaky sea salt and cook, stirring occasionally, 3-4 minutes. Remove from heat and stir in 1 tablespoon fresh dill and lemon juice.
Layer bread with lemon ricotta, asparagus and prosciutto. Top with freshly cracked pepper, flaky sea salt and chopped dill.