(Culinary.net) It's the holiday season and your family can feel the cheer as loved ones fill their appetizer plates and excitement fills the air as gifts are being placed beneath the tree.
Someone asks, munching away near the table, "Wow, how did you make this?" In your mind, you think, "It was too easy."
These Savory Cheese Balls are not only simple to make but perfect for any holiday get-together or celebration. They're fun to create and even more enjoyable to dive in to once finished. Texture and color are the name of the game with this recipe. The result is a beautiful array of red, gold and green, all on one plate.
Start by rolling cream cheese into balls and mixing up three bowls with powerful flavors to create the three different colors. The "green" bowl gets parsley, thyme, rosemary and, of course, some garlic, just for an extra kick of seasoning. The "gold" ball calls for caraway seeds, poppy seeds and garlic. Finally, the "red" ball includes cranberries and pecans.
Simply roll each cream cheese ball around gently until it's coated. It doesn't get any simpler than that. Display the array of cheese balls on a festive plate for something equally cheery and heavenly. Serve the plate with crackers, fruit or vegetables for complementary dipping options.
Find more recipes and holiday fun this season at Culinary.net.
Watch video to see how to make this recipe!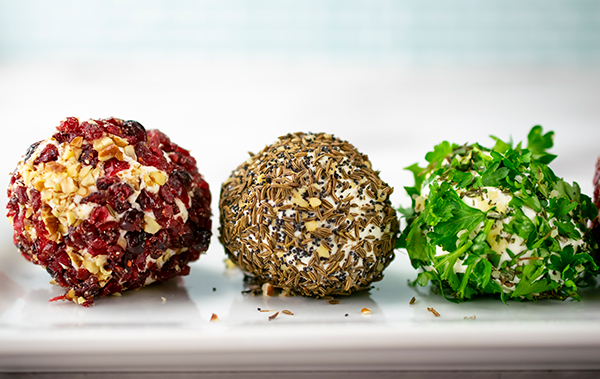 Savory Cheese Balls
Servings: 6-12
2 packages (8 ounces each) cream cheese
2 tablespoons caraway seeds
1 teaspoon poppy seeds
2 cloves garlic, minced, divided
1/4 cup parsley, chopped
2 teaspoons thyme leaves, chopped
1 teaspoon rosemary, chopped
1/4 cup dried cranberries, chopped
2 tablespoons pecans, chopped
crackers (optional)
fruit (optional)
vegetables (optional)
Cut each cream cheese block into three squares. Roll each square into ball.
In small bowl, combine caraway seeds, poppy seeds and half the garlic.
In second small bowl, combine parsley, thyme, rosemary and remaining garlic.
In third small bowl, combine cranberries and pecans.
Roll two cheese balls in seed mixture, two in herb mixture and two in cranberry mixture.
Cut each ball in half and serve with crackers, fruit or vegetables, if desired.
(Culinary.net) From hearty stews to minty pies, St. Patrick's Day celebrations are all about enjoying the flavors of the holiday. Whether you're cooking up a full meal or simply serving appetizers, this Irish Potato Bread makes for a simple, tasty snack to feed your crowd.
Find more celebratory recipes at Culinary.net.
Watch video to see how to make recipe!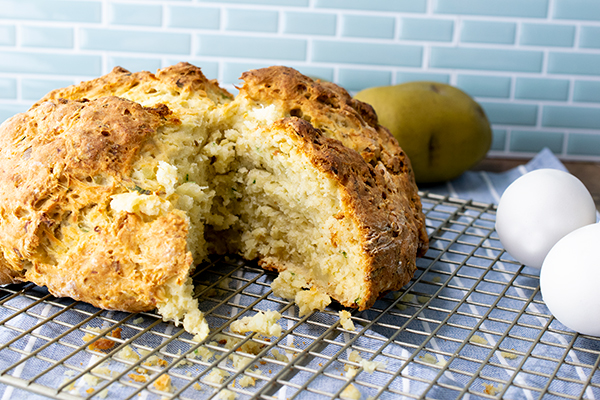 Irish Potato Bread
2 medium or large russet potatoes
1 egg
1 egg white
1/3 cup canola oil
3/4 cup milk
2 tablespoons green onion, minced
1/2 teaspoon caraway seeds
3 1/4 cups all-purpose flour, plus additional for dusting and kneading
1 1/2 tablespoons baking powder
1 teaspoon salt
Heat oven to 375° F.
Peel potatoes. Slice one potato and boil in saucepan 15 minutes, or until tender. Remove potato from saucepan into large bowl. Mash potato then set aside.
Grate second potato onto cloth. Wring potato in cloth to remove excess water. Add grated potato to mashed potato in large bowl. Add egg, egg white, oil, milk, onion, caraway seeds, 3 1/4 cups flour, baking powder and salt. Stir with wooden spoon until mixture is soft and sticky.
Turn dough onto floured surface. Adding flour as needed, knead dough to form 8-inch round shape with slight dome. Place dough onto baking sheet lined with parchment paper. Cut large "X" on top of dough about 1/2 inch deep.
Bake 55 minutes until golden brown. Cool on wire rack 1 hour before serving.