(Family Features) Birthdays, holidays or just casual Saturdays are all perfect excuses to enjoy brunch with your favorite people. Bringing everyone together with quiches, pastries, appetizers, desserts and more offers an easy way to kick back and relax on a warm weekend morning.
These recipes for Easy Brunch Quiche, Savory Cheese Balls and Lemon Blueberry Trifle provide a full menu to feed your loved ones from start to finish, regardless of the occasion.
Find more brunch inspiration by visiting Culinary.net.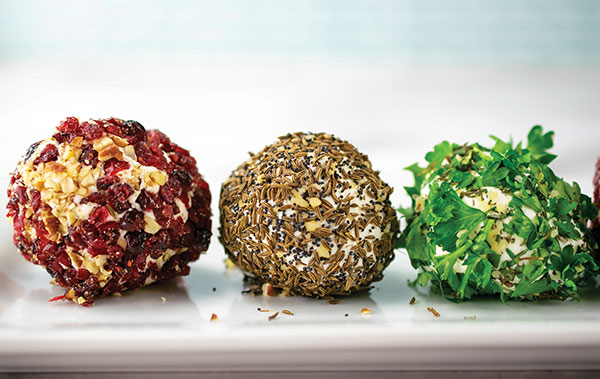 A Savory Way to Start the Celebration
Serving up exquisite flavor doesn't have to mean spending hours in the kitchen. You can bring the cheer and favorite tastes with simple appetizers that are equal measures delicious and visually appealing.
These Savory Cheese Balls are easy to make and perfect for get-togethers and brunch celebrations. Texture and color are the name of the game with this recipe, and the result is a beautiful array of red, gold and green, all on one plate.
To find more recipes fit for brunch, visit Culinary.net.
Savory Cheese Balls
Servings: 6-12
2 packages (8 ounces each) cream cheese
2 tablespoons caraway seeds
1 teaspoon poppy seeds
2 cloves garlic, minced, divided
1/4 cup parsley, chopped
2 teaspoons thyme leaves, chopped
1 teaspoon rosemary, chopped
1/4 cup dried cranberries, chopped
2 tablespoons pecans, chopped
crackers (optional)
fruit (optional)
vegetables (optional)
Cut each cream cheese block into three squares. Roll each square into ball.
In small bowl, combine caraway seeds, poppy seeds and half the garlic.
In second small bowl, combine parsley, thyme, rosemary and remaining garlic.
In third small bowl, combine cranberries and pecans.
Roll two cheese balls in seed mixture, two in herb mixture and two in cranberry mixture.
Cut each ball in half and serve with crackers, fruit or vegetables, if desired.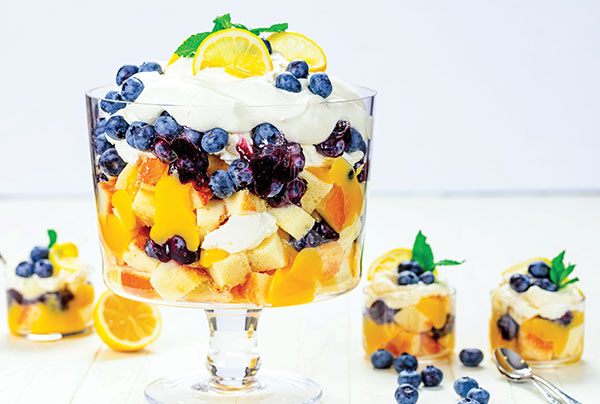 Finish Brunch with a Light, Layered Treat
After enjoying eggs, bacon, French toast and pancakes or any other brunch combination you crave, it's tough to top a fresh, fruity treat to round out the meal. Dish out a delicious dessert to cap off the morning and send guests out on a sweet note that's perfectly light and airy.
The zesty zip of lemon curd in this Lemon Blueberry Trifle brings out the sweetness of whipped cream made with Domino Golden Sugar, fresh blueberries and cubed pound cake for a vibrant, layered bite. Plus, it's a bright, beautiful centerpiece you can feel proud of as soon as guests try their first bite.
Find more dessert recipes fit for brunch and other favorite occasions at DominoSugar.com.
Lemon Blueberry Trifle
Prep time: 45 minutes
Servings: 8-10
Lemon Curd:
1 cup Domino Golden Sugar
2 tablespoons cornstarch
1/4 cup freshly squeezed lemon juice
1 tablespoon lemon zest
6 tablespoons water
1/4 teaspoon salt
6 egg yolks
1/2 cup (1 stick) unsalted butter, at room temperature, cut into 1/2-inch cubes
Whipped Cream:
2 cups heavy whipping cream, cold
2 tablespoons Domino Golden Sugar
2 teaspoons pure vanilla extract
Trifle:
1 cup blueberry jam
12 ounces fresh blueberries, plus additional for garnish, divided
1 pound cake, cubed
lemon slices, for garnish
mint, for garnish
To make lemon curd: In medium saucepan, stir sugar and cornstarch. Stir in lemon juice, lemon zest, water and salt. Cook over medium heat, stirring constantly, until thickened. Remove from heat and gradually stir in three egg yolks; mix well until combined. Stir in remaining egg yolks. Return to heat and cook 2 minutes, stirring constantly. Remove from heat.
Stir in butter; mix until incorporated. Cover with plastic wrap, touching surface of lemon curd to prevent curd forming skin. Refrigerate until completely cool.
To make whipped cream: In large bowl, beat cream, sugar and vanilla until soft peaks form. Do not overbeat.
To make trifle: Mix blueberry jam with 12 ounces fresh blueberries. Place one layer cubed pound cake in bottom of trifle dish. Top with layer of blueberries. Add dollops of lemon curd and whipped cream. Repeat layering ending with whipped cream.
Decorate trifle with lemon slices, fresh blueberries and mint.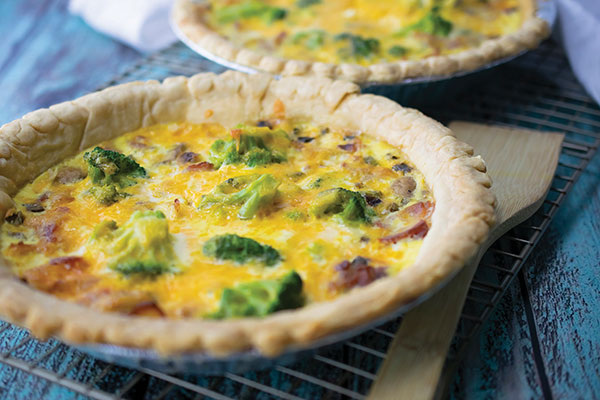 Say Goodbye to Basic Brunch
The same old brunch menu can become tiresome and dull. Adding something new to the table with fresh ingredients and simple instructions can enhance your weekend spread and elevate brunch celebrations.
Try this Easy Brunch Quiche that is sure to have your senses swirling with every bite. This quiche is layered with many tastes and a variety of ingredients to give it crave-worthy flavor, from broccoli and bacon to mushrooms, eggs and melty cheese.
Visit Culinary.net to find more brunch recipes.
Easy Brunch Quiche
Serves: 12
1 package (10 ounces) frozen broccoli with cheese
12 slices bacon, chopped
1/2 cup green onions, sliced
1 cup mushrooms, sliced
4 eggs
1 cup milk
1 1/2 cups shredded cheese, divided
2 frozen deep dish pie shells (9 inches each)
Heat oven to 350 F.
In medium bowl, add broccoli and cheese contents from package. Microwave 5 minutes, or until cheese is saucy. Set aside.
In skillet, cook chopped bacon 4 minutes. Add green onions; cook 2 minutes. Add mushrooms; cook 4 minutes, or until bacon is completely cooked and mushrooms are tender. Drain onto paper towel over plate. Set aside.
In medium bowl, whisk eggs and milk until combined. Add broccoli and cheese mixture. Add 1 cup cheese. Stir to combine. Set aside.
In pie shells, divide drained bacon mixture evenly. Divide broccoli mixture evenly and pour over bacon mixture. Sprinkle remaining cheese over both pies.
Bake 40 minutes.
Cool at least 12 minutes before serving.
Note: To keep edges of crust from burning, place aluminum foil over pies for first 20 minutes of cook time. Remove after 20 minutes and allow to cook uncovered until completed.
Source: