(Family Features) From burgers to barbecued chicken, many of the best grilled foods are served with creamy condiments – often packing on calories and fat. Next time you're ready to grill, experiment with new ways to create simple but robust flavors using fewer ingredients through simple swaps.
Rice vinegars offer a healthy alternative to condiments like mayonnaise or a creamy dressing when grilling. Keeping meals simple is easy with naturally gluten-free Nakano Rice Vinegar, which includes six or less simple ingredients with no artificial preservatives, flavors or ingredients, and no high-fructose corn syrup or MSG. The brand recently announced a clean-labeling initiative for all of its products, which now have easy-to-read labels with recognizable ingredients.
Dawn Jackson Blatner, star of ABC's "My Diet Is Better Than Yours," author of "Superfood Swap" and a registered dietitian and nutrition consultant for the Chicago Cubs, has created healthy dishes to heat up the grill this season.
This fall, look for organic Nakano Rice Vinegars debuting at retailers nationwide, and find more recipes at Mizkan.com.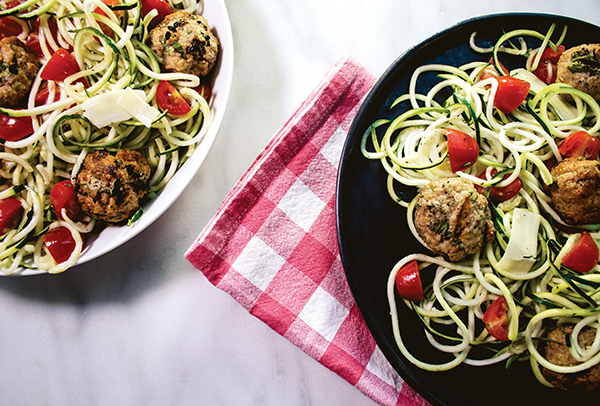 Grilled Meatballs and Zoodles
Servings: 4
Meatballs
1 pound organic ground turkey or grass-fed ground beef
1 cup organic kale, finely chopped
1/2 cup crushed brown rice crackers
1 egg
1/4 teaspoon red chili pepper flakes
1/4 teaspoon sea salt
non-stick cooking spray
Salad
4 medium zucchini
2 cups organic cherry tomatoes, chopped
1/4 cup shaved Parmesan cheese
1/4 cup Nakano Rice Vinegar – Natural or Nakano Organic Rice Vinegar – Natural
2 tablespoons extra-virgin olive oil
sea salt, to taste
black pepper, to taste
Heat grill to medium.
In large mixing bowl, combine ground meat, kale, crackers, egg, chili pepper flakes and salt. Use hands to form mixture into 12 balls. Refrigerate 30-60 minutes to help meatballs set.
Mist meatballs with non-stick cooking spray and place them on grill. Grill each side 3-4 minutes, using tongs to flip to sides that haven't been browned yet. Meatballs should reach internal temperature of 165°F.
Using vegetable spiralizer, create zucchini noodles.
Toss zucchini with tomatoes, Parmesan, vinegar, olive oil, salt and pepper.
Serve each zoodle plate with three meatballs.
Nutritional information per serving: 350 calories; 20 g total fat; 6 g saturated fat; 240 mg sodium; 14 g carbs; 3 g fiber; 6 g sugar; 32 g protein.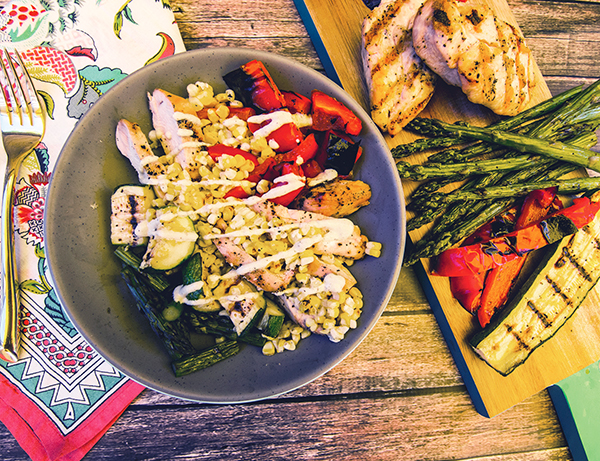 Grilled Veggie and Ranch Bowl
Servings: 2
8 ounces skinless chicken breast
2 ears corn, shucked
6 asparagus spears, trimmed
1 organic bell pepper, seeded and cut into 4 large pieces
1 zucchini, cut in half lengthwise
1 tablespoon extra-virgin olive oil
sea salt, to taste
pepper, to taste
4 tablespoons Cashew Ranch Dressing (recipe below)
Heat grill to medium.
Season chicken breast, corn, asparagus, bell pepper and zucchini with olive oil, sea salt and pepper.
Grill chicken 6-7 minutes per side, internal temperature reaches 165 F. Grill corn 10-15 minutes, rotating after every pop, until corn is golden. Grill asparagus, bell pepper and zucchini 3-5 minutes per side, until tender.
Separate chicken, corn, asparagus, bell pepper and zucchini evenly into two bowls. Drizzle bowls with Cashew Ranch Dressing.
Note: Bowl leftovers can be refrigerated for up to four days.
Nutritional information per serving: 450 calories; 21 g total fat; 4.5 g saturated fat; 870 mg sodium; 31 g carbs; 6 g fiber; 10 g sugar; 38 g protein.
Cashew Ranch Dressing
Makes: 1 cup
1 cup raw, unsalted cashews
3/4 cup almost-boiling water
3 tablespoons Nakano Rice Vinegar – Natural or Nakano Organic Rice Vinegar – Natural
1 clove garlic, minced
1/4 teaspoon dried dill
1/4 teaspoon dried oregano
1 teaspoon sea salt
1 teaspoon black pepper
2 tablespoons finely chopped fresh chives
In food processor, puree cashews, water, rice vinegar, garlic, dill, oregano, salt and pepper 3-4 minutes, until creamy. For best results, drizzle water in gradually as food processor is running. Stir in chives.
Note: Leftover dressing can be refrigerated in an airtight container for up to seven days.
Nutritional information per tablespoon: 50 calories; 4 g total fat; 0.5 g saturated fat; 110 mg sodium; 3 g carbs; 1 g sugar; 2 g protein.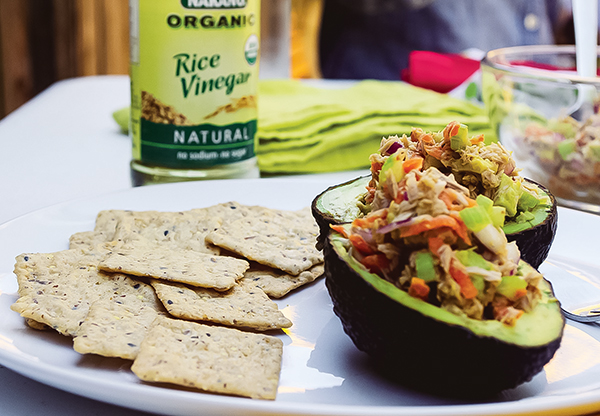 Tuna Stuffed Avocado
Servings: 2
1 ripe avocado
1 can (5 ounces) tuna packed in water, drained
1/2 cup finely diced celery
1/2 cup grated carrot
1/4 cup finely diced red onion
2 tablespoons Nakano Rice Vinegar – Natural or Nakano Organic Rice Vinegar – Natural
1/2 tablespoon olive oil
1/2 tablespoon Dijon mustard
1/8 teaspoon sea salt
1/8 teaspoon black pepper
16 brown rice crackers
Cut avocado in half, remove pit and scoop out flesh leaving thin wall of avocado. Dice avocado flesh and set shell aside for serving.
In small bowl, combine tuna, celery, carrot, onion, vinegar, oil, mustard, salt and pepper. Mix well. Gently stir in diced avocado.
Scoop mixture into avocado shells and serve with brown rice crackers.
Nutritional information per serving: 360 calories; 19 g total fat; 3 g saturated fat; 530 mg sodium; 26 g carbs; 9 g fiber; 3 g sugar; 22 g protein.
Source: Nakano Rice Vinegar