(Family Features) Warm weather is here, and there is no better time for a picnic at your local park or beach. Quick and simple recipes are the way to go, but the typical bologna sandwich doesn't always stimulate the taste buds. This season, experiment with new recipes and flavors, and make your casual alfresco dining experience extra special.
By adding a few key ingredients to seasonal favorites, you have the power to transform everyday recipes into delicious dishes the whole family will enjoy. Here are some great examples on how to plus up an otherwise run of the mill picnic.
For a twist on the classic barbecue chicken, opt for a Grilled Herbed Chicken, seasoned with Grey Poupon Dijon mustard and Italian spices. But, don't let those leftovers go to waste. The chicken can be refrigerated for up to two days and made into a quick-and-easy Caesar salad with the addition of romaine lettuce, Caesar dressing and grated Parmesan cheese.
Instead of ordinary potato salad, try the Butter Bean Salad on for size. Chock full of ham, butter beans, sun-dried tomatoes and red onions, this recipe adds a touch of mustard and cilantro to really titillate your taste buds and give you a side dish full of flavor.
Finally, kick your lunch up a notch and enjoy a Cheddar, Bacon and Pear Sandwich, made with Harvest Coarse Ground Mustard. Whole mustard seeds paired with fresh ingredients create a crisp, robust flavor. Perfect for the family on the go, this gourmet goodie can be prepared in only five minutes.
For more ideas on how to spice up your picnic, visit www.greypoupon.com.
Picnic Food Safety
Cool It: Store perishable foods in plenty of coolers with ice or frozen gel packs. Keep the food at 40°F. A full cooler stays colder longer than a partially filled one. Carry the cooler inside the air-conditioned car, and keep it in the shade when you reach your destination. Use separate coolers for drinks so the food container won't be opened and closed.
Two Hour Rule: Don't leave perishable food out for more than two hours. (Cold foods should not sit out for more than one hour.) Any leftovers that have been sitting out longer than that should be discarded.
Proper Prepping: Wash hands before preparing food, and make sure storage containers are clean. Cooked foods need to be properly cooled - spread the food out in as many pans as needed so that it is no more than two inches deep. This allows it to cool faster, reducing the chances of bacteria growing.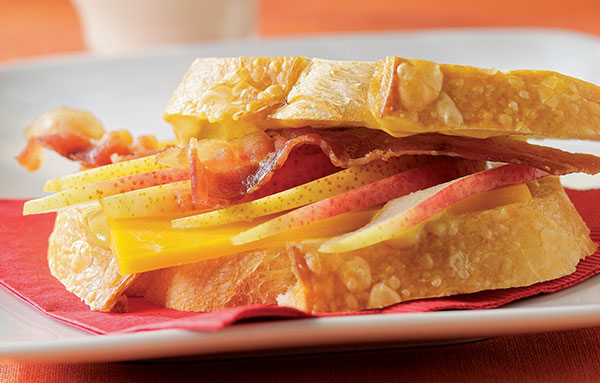 Cheddar, Bacon & Pear Sandwich
Makes 1 serving
2 slices fully cooked bacon
2 slices French bread
1 teaspoon Grey Poupon Harvest Coarse Ground Mustard
1 slice (1 ounce) sharp cheddar cheese
1/4 of a medium pear, thinly sliced
Heat bacon as directed on package.
Spread bread slices with mustard. Top 1 of the bread slices with cheese, pears and bacon.
Cover with remaining bread slice.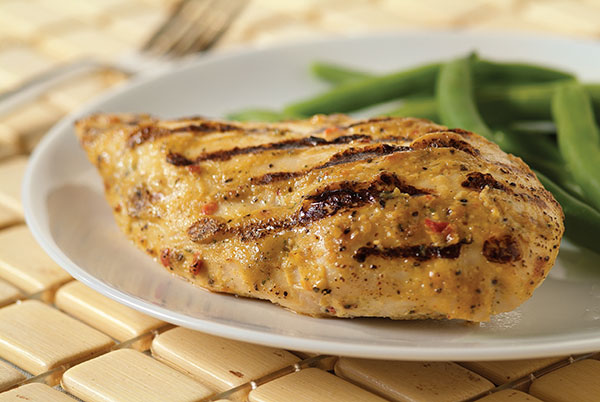 Grilled Herbed Chicken
Makes 6 servings
2 tablespoons Grey Poupon Dijon Mustard
2 tablespoons water
1 envelope Good Seasons Italian Dressing Mix
6 boneless skinless chicken breast halves (2 pounds)
Heat grill to medium heat.
Combine mustard, water and dressing mix in shallow dish. Add chicken; turn over to evenly coat both sides.
Grill chicken 6 to 8 minutes on each side or until done (165°F).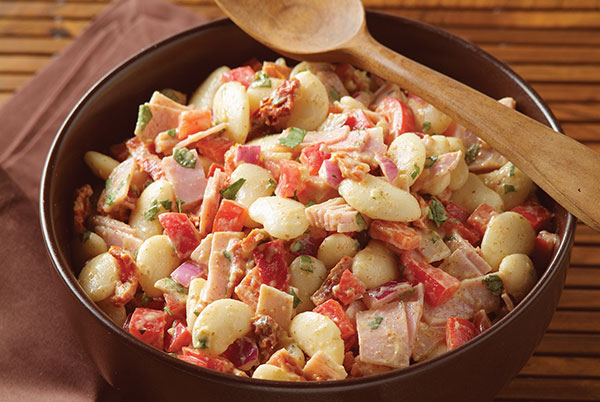 Butter Bean Salad
Makes 8 servings
1/4 cup Grey Poupon Hearty Spicy Brown Mustard
2 tablespoons olive oil
1 tablespoon lemon juice
1 can (15 ounces) butter beans, drained
1 red pepper, chopped
1/2 cup chopped red onions
1/3 cup chopped sun-dried tomatoes
1 6-ounce package boiled ham, chopped
2 tablespoons chopped cilantro
Mix mustard, oil and lemon juice until well blended; set aside.
Combine remaining ingredients in large bowl. Add mustard mixture; toss to coat. Cover.
Refrigerate at least 1 hour before serving.
Spiced Lemonade
Makes 1 serving
Wash down your meal with a twist on the classic summertime libation, Spiced Lemonade. This surprisingly refreshing treat, bursting with fruit flavors, is made with lemonade, gin and Dijon mustard. Top with mint, the perfect finishing touch for a warm-weather cocktail.
1 teaspoon Grey Poupon Dijon
1/2 cup lemonade
1/2 cup spiced gin
1 slice each: lemon, lime and orange
1 slice cucumber
1 sprig fresh mint
Mix mustard, lemonade and gin. Serve over ice cubes in tall glass.
Add fruit and cucumber slices.
Top with mint.
Source: Grey Poupon