(Family Features) When it comes to cooking up creative meals for the family, finding inspiration for new flavors while maintaining nutrition is typically a primary goal.
One solution is incorporating more seafood into weekly meal planning, which offers nutritional benefits like protein, vitamins and minerals such as vitamin D, iron and selenium. In celebration of National Seafood Month, consider these tips from Bumble Bee to add more seafood to your family's diet:
Change the Protein. Try substituting seafood for the meat or poultry in meals like shrimp tacos, salmon burgers or tuna nachos.
Boost Nutrients. If you enjoy classic tuna salad, consider swapping mayo with mashed avocado or Greek yogurt, and try flavorful options like this Chipotle Tuna and Avocado Salad Sandwich.
Make it a Bowl. Personalize mealtime with creative bowls, like Quinoa Bowls with Tuna, using a whole-grain base layered with seafood, veggies and toppings like guacamole or teriyaki sauce.
Find more recipes to add seafood to the table at BumbleBee.com.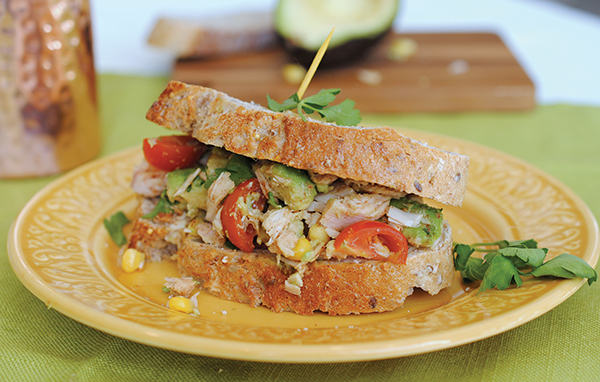 Chipotle Tuna and Avocado Salad Sandwich
Prep time: 15 minutes
Servings: 2
1 can (5 ounces) Bumble Bee Solid White Albacore Tuna in Water, drained and broken into chunks
1/2 avocado, cut into 1/2-inch cubes
1/2 cup halved grape tomatoes
1/2 cup sweet corn, cooked or thawed from frozen
1 tablespoon roughly chopped parsley
1 1/2 teaspoons lemon juice
1 teaspoon red or white wine vinegar
1 teaspoon honey
1/2 teaspoon chopped garlic
1/4 teaspoon chipotle chili powder
1/4 teaspoon kosher salt
4 slices whole-grain bread
In medium bowl, gently toss tuna and avocado until combined.
Add tomatoes, corn and parsley, tossing gently to combine.
In small bowl, whisk lemon juice, vinegar, honey, garlic, chili powder and salt. Drizzle over tuna mixture and toss to coat.
Divide tuna evenly among bread slices to make two sandwiches.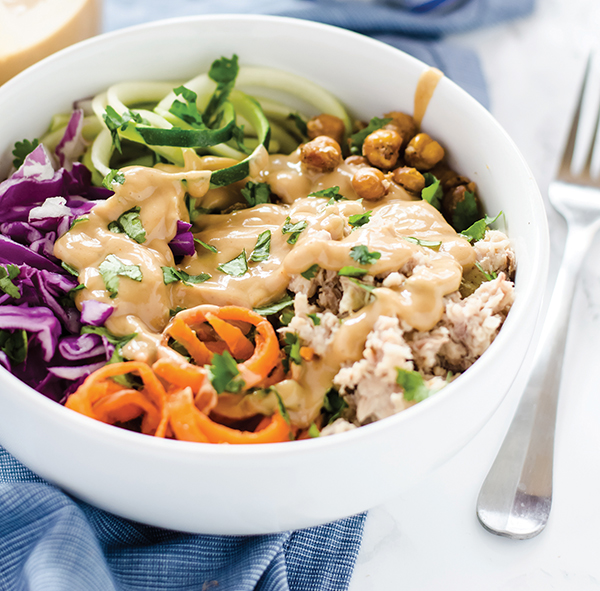 Quinoa Bowl with Tuna
Recipe courtesy of Cookie Named Desire on behalf of Bumble Bee
Prep time: 45 minutes
Servings: 2
Thai Peanut Dressing:
1 cup creamy peanut butter
1 teaspoon ginger paste
1/4 teaspoon fish sauce
1/2 teaspoon cayenne pepper
2 tablespoons apple cider vinegar
2 teaspoons soy sauce
1 1/2 tablespoons granulated sugar
1/4 cup water, divided, plus additional (optional)
Quinoa Bowls:
2 cups water
1 cup quinoa
1 can (14 ounces) chickpeas
1-2 tablespoons olive oil
1/2 teaspoon garlic powder
salt, to taste
pepper, to taste
1 medium zucchini
1 carrot
1/2 cup red cabbage
1 can (5 ounces) Bumble Bee Solid White Albacore Tuna in Water
1-2 tablespoons onion, diced
1 tablespoon lime juice
cilantro
To make Thai Peanut Dressing: In mixing bowl, combine peanut butter, ginger paste, fish sauce, cayenne pepper, apple cider vinegar, soy sauce and sugar.
Add 1 tablespoon water and whisk well. Continue adding water 1 tablespoon at a time until sauce is consistency of heavy cream.
Note: You may not use full 1/4 cup water and could use more depending on preference of thickness.
To make Quinoa Bowls: Heat oven to 400° F.
In medium pot, heat water and quinoa. When it boils, turn heat to low and cover. Cook until water is absorbed and remove from heat.
Drain and dry chickpeas. In bowl, combine chickpeas with olive oil, garlic powder and salt and pepper, to taste.
Spread chickpeas on baking sheet; bake 20 minutes, or until golden brown. Remove from oven and cool.
Spiralize zucchini at medium thickness. Using potato peeler, slice carrot in thin strips. Chop red cabbage. Drain and chunk tuna.
In two bowls, split cooked quinoa evenly. Top with carrots, zucchini, cabbage, roasted chickpeas onions and tuna.
Season with lime juice, cilantro and Thai Peanut Dressing.
Source: Bumble Bee